Mar 28, 2013
1 Comment ››
admin
 THE LAST HURRAH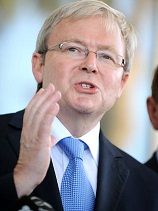 The departure, finally and forever, of Kevin Rudd as a leadership contender in the Labor Party was inevitable for reasons which might not be readily apparent but which I am now happy to share with you.
Regular readers will recall that about six months ago I trespassed on my role as his authorised biographer to send him an Open Letter via these lively pages pleading with him to drop his endless agitation for a return to the top job and throw his full support behind Julia Gillard.
The letter was republished on the ABC website and on Channel 7's Sunrise program. 'Sloppy Joe' Hockey took me to task for daring to go public. Kevin refused to consider it. Indeed, he immediately warned his family and our common friends that I was no longer to be trusted.
Some family members ignored him; some 'friends' such as broadcaster Phillip Adams, broke off all contact with me. Indeed, it made for an interesting time as I recalibrated my regard for individuals in both categories. Kevin's action was not unexpected. For I had come to realise that there were two underlying traits that first caused his downfall from the Prime Ministership and then ensured that he would never regain the Labor leadership.
Both flowed from the foundations of his character in that dairy farming family in Queensland's bible belt. In the biography I alluded to the split between the loveless, contending parents – the mother fiercely and puritanically Catholic, the father bawdily and bibulously agnostic; she a DLP supporter; he a Country Party man to his bootstraps. But I was unaware at the time of writing just how hostile the rift was. Nor did I appreciate just how much Kevin's character had been shaped by his devotion to his mother's cause. For he (like Tony Abbott) really believes he has been chosen to do God's work.
Such people have outsourced their moral code to some other- worldly formulation; this allows them to do 'whatever it takes' to gain their political ends because, you see, it's all for the greater good. So appeals to set aside personal ambition for the good of the party (or even the nation) fall on deaf ears. It's not that they are narcissistic – though the symptoms are the same – it's that only they really understand the importance of their mission
The second aspect was that he didn't just lack a gut feeling for the Australian Labor Party and its great traditions, he seemed at times contemptuous of it and them. Gough Whitlam was his model but it was Whitlam without the famous 'program' that touched the nation's suburban roots; or the total immersion in Party reform that took Whitlam to the edge of the precipice until he won through.
And alas, there was a third, best summarised in the bon mot that did the rounds of the beltway the day after he failed to challenge. It said simply, 'Chicken Kev'.
However, the good news, the wonderful news, is that his humiliating decision not to challenge finally gave the Prime Minister the chance to root out the dissidents and put her Government's best foot forward. Will it be enough to win on September 14? The conventional wisdom is a horse laugh.
I beg to differ.
If you enjoyed this article you will enjoy The Gadfly Papers
A selection of my best Gadfly articles over the last few years in one eBook Buy the ebook now for $2.99